Cricket Protection Gear
Cricket Batting Pads
Cricket Batting Pads are your leg and knee guards. It is an essential for a cricket player to equip himself with batting pads before beginning any cricket game. A good pair of cricket batting pads should have ample padding protection at the shin areas, and sufficient bolster to cushion any oncoming strikes and impacts.
The shinbones are often referred to as the most important and strongest weight bearing bones in our body. They are the primary bones that connect our knees to our ankles so our legs are sturdy enough to carry the weight of our bodies. All efforts should be made to protect them. Batting pads should also be light weight. You would not want a pair of heavy burden on your knees as you do your runs. They should also feel soft to the bends as your calves bend away from the knees during a run. Check that securing straps should be at the right proportionate height of your legs at the following heights: behind your knees, mid calves, and ankles.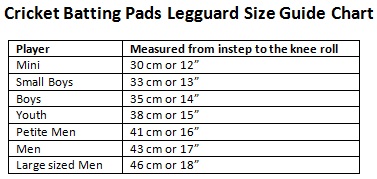 Batting Gloves
Every batsman should have a pair of good batting gloves for protection. When buying a pair of cricket batting gloves, look for a pair that has pre-curved fingers. Pre-curved finger slots enable better grip so they don't move about as much in the empty spaces between the fingers and palms as you move, minimizing the risk of slipping out. Pre-curved fingers also allow more flexibility and bends with the fingers, in turn giving you better grips of both the cricket bat and cricket ball.
Check that there is sufficient porosity and ventilation mesh in the material of the batting gloves. Allowing perspiration and moisture to evaporate faster is key for better absorption of your hand gear and to playing a good cricket game.
Cricket Helmets & Grills
Cricket helmets should feel light weight, and has good heat dissipation ability. Choose one that has a front pad that is able to absorb perspiration to prevent sweat from trickling down your forehead, obscuring your vision when playing in a cricket game. Look out for one that has a comfortable chin strap and chin cup.
Cricket Helmets Size Guide
Generally,
For juniors: from 51 cm to 54 cm
For medium: from 55 cm to 56 cm
For seniors: from 57 cm to 62 cm